Currently in Novosibirsk:
Novosibirsk Webcams
Our visitors:
COLOR, COLOR EVERYWHERE!!!
Saturday, August 05, 2006
Well I've made a lot of progress on Operation Pooh. Friday I started the first coat of the lower walls and yesterday I did the upper walls and the ceiling. I still have the second coat to put on both, which I will do on Sunday.

The funny thing is that we chose this color scheme because, well we're both sort of conservative and most of the house is rather muted in terms of color, furniture and artwork. If I were to describe us I'd say we're more of the Monet and Degas people than Dali or Jackson Pollack. This "Classic Pooh" scheme is definitely more muted than some of the other options we were thinking about (a Nickelodeon's Dora the Explorer theme, Blues Clues theme, etc.)

Anyway, so I get most of the first coat done on the upper walls and ceiling while Stef was running to do a bunch of errands. She comes back and I say you need to walk up the stairs and just take a look at the room as your heading up. And her reaction is sort of an astonishment with a "Whoa" sound. Which quite frankly is my reaction too when I look into that room. It is quite colorful to be sure. I'm sure our child will love it and think it's pretty cool, but it does highlight our laid back style in that this room makes us take a second take on the color.

Here's two shots with just the lower walls done (the first coat of that)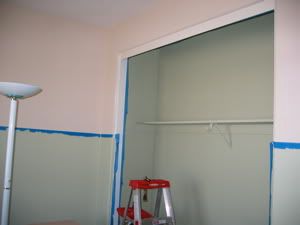 And here's the first coat of the upper walls and ceiling done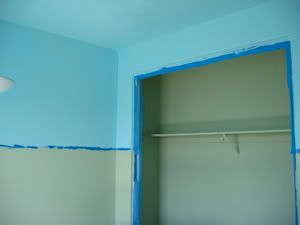 posted by Steveg @ 12:40 PM

About Us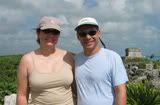 Contributors:
Our Story:
I'm Steve and this is my wife Stefanie. This is our story, mostly seen through my eyes, of the journey to create our family by adopting a child from Russia.
The Great Snowsuit Swap
Donate your old snowsuits or other one time use items to other adoptive parents at: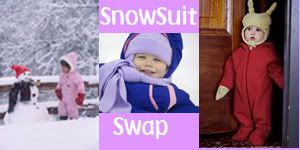 Previous Post
Archives
Powered by


Original template design by Isnaini Dot Com
Thoughts
"The two greatest obstacles to democracy in the United States are, first, the widespread delusion among the poor that we have a democracy, and second, the chronic terror among the rich, lest we get it."

Edward Dowling