Currently in Novosibirsk:
Novosibirsk Webcams
Our visitors:
Watch out Heffalumps, Operation Pooh is almost done
Sunday, August 13, 2006
With the clouds completed we decided to forge ahead and put the border the up today. The whole room really came out well. It's probably way too early to get all this done but it has been good for us to do this. There's going to be a lot of waiting but every time we do something like buy the crib or paint the wall, or whatever, we just feel like we're getting one step closer to having our family.

But back to the nursery story (pardon the pun). We had a small problem when we first started because I just have a regular level that does has a laser light on it but it's not one of those fancy laser levels that can either be used with a tripod or hangs onto the wall and then projects out the line.

Instead we first tried to set the level we have on a ladder, get it all level and then project out the laser line. Well to make a long story short, we ended up just measuring out the height and using the level to mark off on the wall with a pencil. And viola, a nice straight level line to place the border on. Those special laser levels are the right tool for the job but they're fairly expensive for the good ones and I've never really had a job before this that really needed one (usually a simple level works fine for pictures, shelves, etc.). And obviously I was able to make due with my simple level for this project as well.

Anyway, with the lines all set up Stef took over and handled all the hard work of putting up the boarder. As with the cloud painting, I took on the key role of assistant supervisor. Of course the head supervisor, seen here taking a much needed break, was the real one in charge.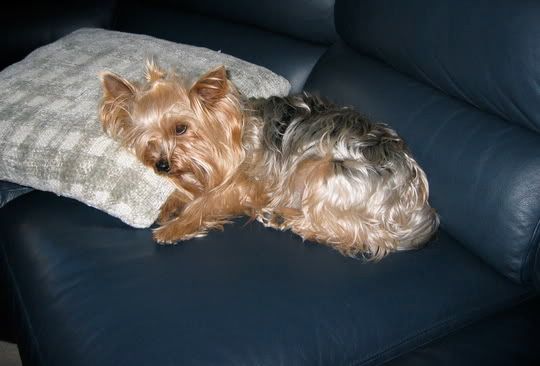 So here's a quick shot of the clouds and the border. It's not my best photographic effort I'm afraid. And don't worry that light is just a hold over from the guest room that we're just temporarily using. We'll eventually get some cool kids style lighting. Notice the cool Mickey Mouse cloud? It actually looks more like a real cloud than it does in this photo.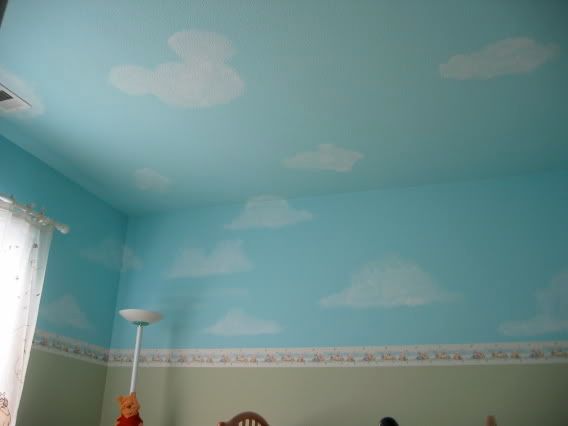 posted by Steveg @ 11:11 PM

About Us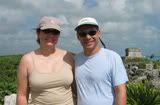 Contributors:
Our Story:
I'm Steve and this is my wife Stefanie. This is our story, mostly seen through my eyes, of the journey to create our family by adopting a child from Russia.
The Great Snowsuit Swap
Donate your old snowsuits or other one time use items to other adoptive parents at: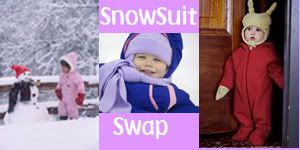 Previous Post
Archives
Powered by


Original template design by Isnaini Dot Com
Thoughts
"The two greatest obstacles to democracy in the United States are, first, the widespread delusion among the poor that we have a democracy, and second, the chronic terror among the rich, lest we get it."

Edward Dowling