Currently in Novosibirsk:
Novosibirsk Webcams
Our visitors:
Happy New Year!!!
Sunday, December 31, 2006
Both Stef and I are really going to celebrate this year's New Year for some obvious reasons. Although we're both pretty sure there are still some unseen difficulties ahead, things are looking bright as the new year approaches.

Our agency passed the NGO hurdle back in September and (along with just about every other agency) submitted their application for accreditation this past week. And that means that accreditation should occur sometime within the next three months.

The Russian Orthodox Church celebrates Christmas on January 7th and much like in the U.S. the week between Christmas and New Year's (or I guess that's New Year's and Christmas) is traditionally a time of very little work. Another big holiday is the Old New Year (which is based on the Julian calendar which Russia used till the Communist Revolution in 1918) which is January 14th.

So this is why everyone says that very little gets done in the first couple of weeks of January in Russia.

But things are moving along nicely for us, this whole journey hasn't been too long and really been too hard on us. I do hope things move quickly however for all those families that have already gone on their first trip and are awaiting court dates, in some cases for months.

However, it's been a nice year and things are going pretty well right now and the future is certainly bright.

So Happy New Year to all!!!
posted by Steveg @ 5:49 PM

Я хорошо говорю по-русски
Saturday, December 30, 2006
Still working on my Russian lessons. I'm getting a much more expanded vocabulary and can now ask for things like directions and questions like, "Do you want something to eat?" As well as being able to answer all those types of questions. So as the title of this post says, "I speak Russian well." Actually due to Russian grammar, the exact word order says "I well speak Russian."

The vocabulary is getting large enough for me to augment these tapes with making up some flash cards. When I took German in college that approach seemed to help me the most. I've never been very good at learning foreign languages, but I really like this Pimsleur stuff. I'm about halfway done with the CDs, it's the Pimsleur Russian I which contains 30-thirty minute lessons on 15 CDs (so that's 15 hours of Russian lessons).

As I've mentioned I load them onto my iPod which works out great. The Pimsleur stuff is excellent but also very very expensive. I bought this first set of three (each set has 30 lessons on 15 CDs) new on ebay for $170 and that's what most of the used sets seem to go for. When I'm done or just on the last few CDs (probably in a few weeks) I'm going to go ahead and sell mine on ebay for $150 (so if you are starting your adoption journey and want them just email me and I'll sell them to you for $120).

The other option if you only want to just learn a few simple words for a child is a CD that Teresa Kelleher created. Most people like it, but it is pretty limited and designed just for speaking to a child. I wanted something in which I could talk to the orphanage director and the judge as well as saying a few things to the child so that's why I opted for the more advanced Pimsleur stuff.

And of course you don't have to learn Russian at all since you will have a translator with you most of the time. However, we felt it was important to learn as much as we could and avoid the "ugly American" moniker that is, unfortunately, all too true. Plus we just feel there is a huge benefit you get when you at least try to speak to others in their language, and we really want to make sure the orphanage director and the judge are on our side.
posted by Steveg @ 9:22 AM

Long time, no post
Friday, December 29, 2006
Since not much new is going on in the adoption world, the requirements for applying for accreditation were posted and our agency has submitted their documents, I'm going to try to move accreditation along. Hopefully I'll have the same luck as last time since government decision 654 was signed very shortly after my last list, here's an update to my top ten list of the reasons accreditation hasn't been completed yet.

10. The adoption gods want me to have the lifebook started (have all the stuff, just haven't done anything yet) – got more stuff but still haven't done too much.

9. Traveling now would fit in well with my work schedule – this one is still true, but won't be for much longer.

8. We don't have enough winter clothes so will need to spend more money on stuff we probably won't use more than once – at least they're on clearance now.

7. Our ballet season tickets came in and we have great seats, so we'll probably need to change at least one date and get not as great seats – on the same ballet note, the Bolshoi will be traveling to Washington DC at the end of February we really wanted to see the Bolshoi while in Russia.

6. Our football team (go Niners) is playing so bad right now we wish we could be far, far away so we wouldn't have to watch them loose so badly – the season actually picked up nicely and they started doing better, I'll have to think of a new number 6.

5. We're missing out on buying cool toys for Christmas (of course at Costco and more shopping) – all the toys are gone from Costco, but plenty of other options are ready for shopping.

4. We should be learning more Russian (yep, still on lesson 5) – still on lesson five.

3. It gives me an opportunity to irritate Steve by sending links to all the Disney stuff we could buy for Lil' G's room – I've now progressed from sending the links to buying stuff.

2. Chianti really wants to continue to monopolize our lives so has been calling the Russian authorities (and running up a huge phone bill) – Chianti has now gotten Merlot (the cat) in on the action so the bills are even bigger.

And the number one reason is ...

1. It's not cold enough in Siberia (yet) – it could be colder.
posted by yorkiemom @ 8:53 PM

Merry Christmas
Monday, December 25, 2006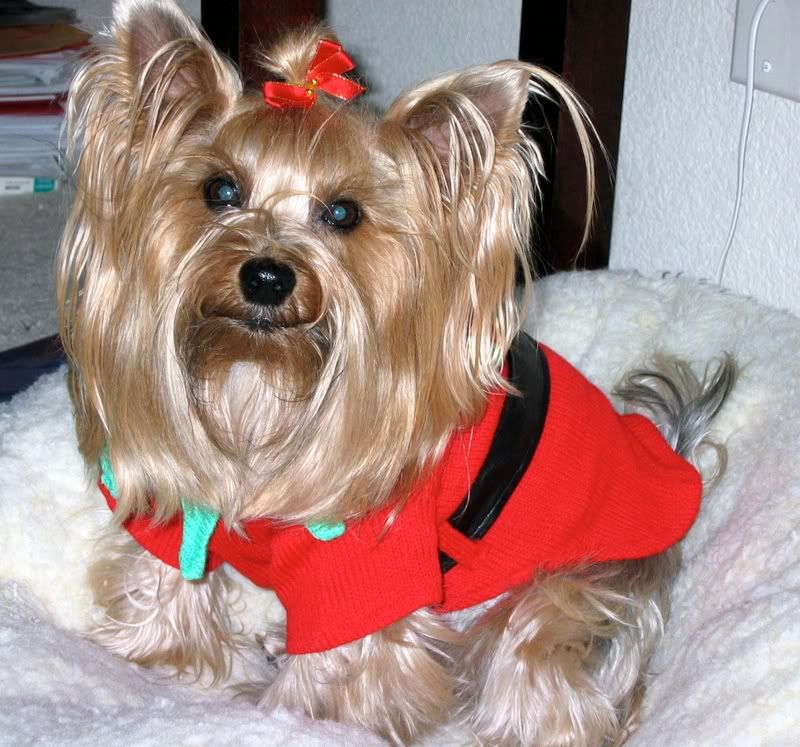 Chianti, Merlot (who refuses to put up with costumes or pictures), Steve and I would love to wish Merry Christmas to all of you and your families!
posted by yorkiemom @ 8:56 AM

Still thinking
Saturday, December 23, 2006
First just a maintenance note.

I made the switch on blogger to their new version and I've heard a few stories of people who have had some problems with folks leaving comments among other things. So if you do have some problems leaving comments, please do me a favor and email me. It may be that I need to adjust the settings or something.

Back to our regularly scheduled broadcast.

So I wrote that post about trying to decide which diaper bag to get and made the joke that it was a controversial issue. Well...I guess it really is. Between the comments and the emails I got I realize now that people really do have some strong opinions as to which type of bag is best.

But I really think it's due to the type of use you use the bag for. Stef said it's really like the way women choose purses. Some women put a whole lotta stuff in their purse and must have a really big one, to them size matters (sorry just had to say that). Others want a very organized purse with lots of pockets while others want something small, while still others want nothing at all.

Hey, I'm rhyming! I am ready for a kid!

Anyway, I'm still evaluating them. I really need to go to Babies-R-Us or somewhere like that to just take a look at them and see the sizes and really do some hands on analysis.

I'm probably not going do any posting for a few days, so I hope everyone has a happy holiday season.
posted by Steveg @ 11:12 AM

Saving for College
Friday, December 22, 2006
One of the undeniable goals of parenting is to provide for a child's education. As most of the readers of this blog know, in my retirement I'm teaching a class or two at a local college. And every semester I always throw out some key facts about the importance of education to my students. The median income per person in the U.S. by level of education is:

High School grad $23,600
Bachelor's degree $47,500
Advanced degrees $61,600

As you can see a Bachelor's degree alone can mean over $20,000 a year in income. Today the average cost of a Bachelor's degree at a public institution is about $40,000 (that includes everything, tuition, room & board, the works) or about $10,000 a year. So although it's expensive, the payback is pretty darn good.

How much will college cost in the future?

Of course for parents of little ones who may not be attending college until 2020 or beyond the costs of college will much higher than today. Unfortunately education costs are rising higher than the overall inflation rate (currently the average increase is about 6-7%). That means in 2020 the costs for four years at the average public college could be over $100,000. Ouch.

Here's a great college cost calculator to help you figure out how much your little one(s) will need when they enter their college years.

Now before you collapse in tears thinking you'll never be able to save that much money and that your child will be destined for a life as a bathroom attendant, relax and take a deep breath. There are some very good savings programs that will help you get there. And remember there are also many supplements that may be used (including scholarships, student financial aid, and student loan programs). But let's take a look at the best thing to come along in years for helping you to save for your little one's future.

The 529 Plans

Years ago there was something called an Education IRA (which still exists) but that is now superseded by a much better vehicle to save for a child's education known as a 529 Plan. Think of them as tax free savings accounts. Basically you put money into the plan which is invested (in stocks, bonds, etc.) and then grows tax free. You don't pay any taxes on the income as it grows nor when you take out the money. Let me say that again, all of the money in the account is tax free. God, I love those words.

There are a few limitations in that the money must be used for education expenses (but that includes money for books, tuition, room & board, even computers). Also there are some maximum growth amounts but those aren't very important (currently it's something like your account has to be under $300,000, but even Stanford isn't going to cost that much!).

Other benefits of the plans include that anyone can contribute. So you can set up an account and have grandpa and grandma, aunts and uncles, basically anybody add to it over the years. Plus you don't have to put in a bunch of money to start one. Most plans allow you to start an account with as little as $25. And there is no income limit to start one, so even wealthy folks can do it.

I believe that all 50 states currently have plans and there are a few differences between each state's plan. But you don't have to use your home state's plan if you don't want to (however in most cases there are some additional benefits if you do).

So what will I need to save?

Let's do a simple example with the same data we've been using. We'll use a fairly conservative 8% growth rate (personally I think 10% is more realistic) and say that the four year costs will be $100,000 in 2020 (but keep in mind you will only need 1/4 of that in 2020 and another 1/4 for each year the kid is in school).

So to reach that goal you will need to put about $220 each month into the plan. But remember there are many other sources the child may (and probably will) be able to use (financial aid, loans, scholarships). And as said others can contribute (tell grandpa and grandma to put money towards their education instead of buying a new toy they may only play with for a month or two).

So it's very likely you personally will only need to contribute 50-80% (or even less). And that can lower the average monthly contribution to around $100. And you don't necessarily need to start out with that much. You could start with a smaller amount now and as your own wealth grows (salary increases from work, etc.) contribute more and more as time goes by.

Where to find more info

Most plans are managed by financial institutions and not the state government (thank God for that). In California, Fidelity Investments runs it and their site has a lot of valuable information about 529 plans in general.

The SEC has some details about 529 plans as well but is more of a read for those who are a bit more financial savvy.

This site does a nice job of going over the basics most of which I've covered in this post.

Having accomplished my personal goal of retiring before my 40th birthday I can tell you from experience that the old adage is all too true:

People don't plan to fail, they fail to plan

So, please if you haven't already done so, start a savings plan now. And if you are still in the adoption process like us, the minute you get home with your little one get one set up.
posted by Steveg @ 10:38 AM

To err is human, hence the need for a diaper bag
Wednesday, December 20, 2006
I think most people who read this blog know that I'm going to be the stay at home dad. And as a result, I will be the one using the diaper bag the most so Stef is letting me decide which one to get.

Now I know what you are thinking, this is such a crucial topic and what's more, it's a controversial one. But of course I'm not shy nor timid and will attack the vital issue of which bag to buy with all the piss n' vinegar that I'm known for.

Just a side note, thru my exhaustive research including talking with the top people in the field (mommies), I've actually found that it can often make sense for both parents to have their own diaper bag. But let's get to the analysis.

An endless sea of bags...

There are as many different types of diaper bags as there are iPod cases. No, wait that's probably not true, well...whatever, there's a bunch.

I eliminated the ones that look like purses because as shocking as it may seem I, as a man, do not wish to walk around with something that looks like a purse. I also nixed the backpack ones (even though a number of friends recommend them). I never liked wearing a backpack in school (in fact, in college I had this cool sort of duffle bag/artist bag).

Also keep in mind we are adopting a toddler. And I've now learned that often the best bag for a child as an infant is not the best bag when they're a toddler.

So what is really important...

*I learned that smaller is better, or at least that the really huge bags that can hold everything can become a major hassle.

*Multi compartments are good but you can actually get by with just ziploc bags.

*In fact most mommies I contacted said they use the ziploc bags even if the bag has what is known as "wet pockets" for holding used diapers.

*Get something durable, it's going to be stepped on, thrown into the car, etc. So the very nice designer ones are not the most practical.

So which one to get...

Well, I'm still trying to decide but I've narrowed it down to a few. There's actually a whole line of Men's diaper bags made by two different companies: DadGear and Diaper Dude. But I'm not limiting myself to just them but a few of their bags have made it to the short list.

So, right now I only have these five on the short list, but will probably add one or two more and then make a decision while we're waiting for accreditation to happen.


DadGear's Sport Bag

DadGear's Messenger Bag

Diaper Dude's Black Bag

Eddie Bauer Diaper Bag Maxi

Sherpani's Lena Diaper Bag

Also if you're wondering why some of these items aren't going on a baby gift registry, we're really sort of avoid that. Stef's work may do something but she's trying to keep a low profile about the adoption at work so I really don't think many of them even know about the adoption. And we're really shying away from a traditional baby shower at home. Plus we're having fun buying the things ourselves and this way we get to stretch out the "presents" for months.


posted by Steveg @ 3:19 PM

Stef gets a late birthday gift
Tuesday, December 19, 2006
Well just as I posted my thoughts that we wouldn't hear anything about reaccreditation until sometime in January the Russians came through giving Stefanie an even bigger and better birthday gift than I gave.

They have now posted the requirements and will begin accepting applications from agencies for accreditation starting tomorrow (Dec. 20th)!!!!

HUGE!!!!!


YES!!!!!



COOL!!!!!




First this is just awesome in the fact that now accreditation can begin, of course, we all need to keep in mind that it still may take the 3 months that the law stipulates responses to accreditation applications can take (3 mo. are the max). So we still need to be realistic and think that the actual accreditation may not be given until Feb or March (and thus our referral may not happen until a few weeks after that).

But the fact that they have gotten this done prior to holidays is a very encouraging sign that they may indeed expedite the process. And it shows that they are committed to international adoption but, much like things in the US, it just takes time and we need to try and be patient (as hard as that is).
posted by Steveg @ 9:45 AM

Happy Birthday Stef!
It was Stef's birthday yesterday. We did a birthday weekend for her, nothing too special, we didn't go to Milan on a shopping spree or anything like that. I did tell her that this is going to be her last B-Day as a pre-mommy. So the Russians had better not screw me over on that promise.

Since there's going to be nothing new to report for awhile (I'm pretty sure at this point we won't hear anything about accreditation until mid January), I'm going to write up some thoughts over the next couple of weeks on a few topics I've been thinking about recently. Some are near and dear to my heart (like the best ways to save for Lil' G's education) and some are even more important (like which diaper bag to get so I look cool while I'm out n' about).

We also picked up a stroller recently. As usual we bought this way too early, but there was just too good a deal at Costco for me to turn it down. I did have to convince Stef a bit because it was one of the bigger types of strollers and not the smaller compact ones. But the interesting thing about strollers is how easy and light weight some of the bigger ones are (at least the good ones).

So with that purchase the only big ticket item we need to get are the car seats. And actually the nice thing about the wait is that we at least can just pick up stuff as we see things go on sale. Although I doubt we'll be seeing Britax at Costco anytime soon.

Until our referral comes we're going to try to continue to limit purchasing the personal items (like toys, clothes, etc.) since those are very dependent on the age and gender of the child. Once we get a referral the flood gates are going to open. It's been terribly difficult to not buy some of those things especially with all the stores stocked with cool toys for the holidays.
posted by Steveg @ 9:12 AM

From NGO rumors to Accreditation rumors
Thursday, December 14, 2006
Much like the NGO situation, there are plenty of rumors on when reaccreditation will begin. First off some facts, the consensus is that the MOE must communicate the details of the new government decree #654 to the various agencies and that until that occurs the MOE is not accepting applications for accreditation. Most agencies, however, know most of what will be required and have already put together their applications and are ready to submit them (our agency included).

Now here's where the rumors diverge.

There are some people who have been told by their agency that they have been able to submit documents (although possible, I highly doubt it). Other rumors include an exact date in which accreditation will occur: January 15th (I doubt this even more). As usual our agency does a very good job of communication including telling us all the rumors out there. And as usual, they provide their take which is always on the conservative side.

And quite frankly we much prefer it that way. With all the emotions, with all the friends and family members constantly asking "what's happening now", getting your hopes up every week only to be disappointed is not a good thing.

On the hotline yesterday, they mentioned that every single time estimate that the MOE (or other government group) has provided has been wrong (as in taken MUCH longer). So even though the MOE has stated they will expedite the reaccreditation process, our agency is totally dismissing that and believes it will in fact take longer than normal to get accreditation.

So while there are tons of rumors that accreditation will be done quickly, our agency (and I'm happy they are) are being very conservative and bracing us for the possibility that accreditation may not occur until Feb or March (or even later).

I still believe that the most likely scenario for us is a referral (and thus 1st trip to Russia) in the late Feb/Mar range with a worst case being in the June/July range. However, as each day goes by without the MOE accepting accreditation applications, the likelihood of an April or May 1st trip becomes more and more realistic.
posted by Steveg @ 8:39 AM

Monthly update
Tuesday, December 12, 2006
In the middle of last month I wrote up a short recap of how far we had gone in our adoption journey (since it was our 6th month anniversary since starting). Anyway, I think I'm going to do the same thing each month first to help readers who may not have been following this blog for too long and also to help me chronicle my time estimates. I was trying to look back and see what my guesstimates have been and it was hard to get a read on them.

So I figured I'd just start doing a mini recap each month around the date we officially started (the 9th of May). Hopefully it may help people who are just getting into the process to see how estimates can change.

Anyway...

May
We officially start with our first interview meeting with a home-study agency (the one we eventually go with) and begin the home-study process.

Time Guess: We felt if really lucky it would be under 1 year, most likely about 12 and worst case about 18 months. So basically our 1st trip to Russia (the second coming about two months later) we were guessing would be in the Oct '06 to Aug '07 range.

June
The home-study process is completed (although actual write up of the home-study document is not really completed until July). We nail down which placement agency we will be going with and start to work on the plethora of paperwork required.

Time Guess: 1st trip guess narrows to Oct '06-May '07 as things are moving fairly quickly for us.

July
With very detailed info from our placement agency (they are outstanding and are well worth the higher cost) we continue working on dossier part I (that's really most of the stuff required, part II is just additional stuff only needed for the court date). I also begin working on setting up Lil' G's room. We get in record time the key U.S. government form known as I-171h (some states now use a different form).

Time Guess: 1st trip guess Sept '06-May '07 (the I-171h and the fact that we continue to get things done very quickly makes me a bit too optimistic).

August
More work on the dossier. Including getting most of our documents apostilled. We continue (along with everyone else) to wait for the first agencies to get NGO (which is needed before reaccreditation can begin).

Time Guess: 1st trip guess Oct/Nov '06-May '07 (still holding out optimistic hopes for a quick reaccreditation process, but we start seeing more and more evidence of how slowly the Russian bureaucratic process really takes).

September
Our agency gets the NGO (one of the first 15 to do so) but we learn that reaccreditation cannot begin until the "instructions" for accreditation are updated to reflect the change in the process (the NGO thing).

Time Guess: 1st trip guess I now sincerely doubt the Oct/Nov best case is possible and start zeroing in on a likely Jan/Feb '07 range, but still maintain best/worst case as Oct/Nov '06-May '07

October
We continue to add little decorations to Lil' G's room and (off and on) listen to Pimsleur's Russian Language program on our iPods to learn some Russian. The entire month goes by with absolutely no progress on the reaccreditation process.

Time Guess: 1st trip guess still at Jan/Feb '07 with a change in the best/worst case to Dec '06-June/July '07 (but still the worst case is under 18 months)

November
Finally the new government decree (#654) is completed but the actual details of what is meant by it is not really communicated to the various agencies who are left with trying to interpret what is really needed for reaccreditation.

Time Guess: 1st trip guess is more like Feb '07 (due to the holidays, Russian Xmas is in Jan) with best/worst case slipping to Jan '07-June/July '07 (but again this is still within the 18 months)

December (so far)
Still no word on the details of reaccreditation and when it will begin. It is frustrating since the MOE knew since the NGO stuff became a part of the process way back in April that they needed to update the accreditation process requirements. But for whatever reason, agencies have been in this very long holding pattern. Our agency's accreditation expired in May which means it's been a 7 month wait so far for them (note: until now this did not impact us since we were able to work on getting our dossier done regardless of their accreditation status).

Current Time Guess: 1st trip guess late Feb/Mar with best/worst case still being Jan-June/July

The time is not really bothering us, although it's very annoying that the "process tune up" stuff is the part that is causing a slow down when, as I mentioned, it was well known the process needed to be changed many months ago. We also keep telling ourselves we are right on track with what we thought in the beginning and we know there are many many many people out there who already have referrals and are waiting for court dates (which is a much tougher emotional wait) or just other folks who started the process long before we did.

But it is irritating that we could have hit the best case because all the other parts of the process have gone like clockwork. Of course, that's why I've often said my best case guesses required all the planets to align (and not just 9 out of 10).
posted by Steveg @ 9:34 AM

Some good financial advice
Friday, December 08, 2006
As you probably know by now I'm very concerned with "personal financial heath". With the possible exception of most CEOs and the entire Saudi royal family everyone needs to keep their financial house clean and organized (i.e., eliminate bad debt).

Check out some very good thoughts from Debbie's blog and also this one she did.

Oh, and what I mean by "bad debt" is there is good debt and bad debt. The best example of good debt is a home mortgage. The reasons include tax treatment benefits, usually very low interest rates, and an underlying asset that usually is growing faster than the interest rate.

Bad debt is every credit card out there. Period.

People often ask me how I was able to retire at 39. Well one of the main reasons is that Stef and I made a commitment to never have a balance on our credit cards. And for the past 10+ years we never have.
posted by Steveg @ 10:38 AM

More randomness
Thursday, December 07, 2006
So some very good news from Lauren and Marco who are in Moscow right now. Hopefully this means that Lauren will actually be able to sleep (she hasn't since she got there, three days ago!).

Also I forgot to mention something I read on Debbie's blog a few days ago. She had found out that the adoption tax credit for 2007 was increased to $11,390. So that's more good news.

I also also forgot to mention a cool show we watched a couple of weeks ago about Russian history. The series (which I watch all the time) is called Engineering An Empire and it's on the History Channel (one of my fav's) on Monday nights. It's hosted by Peter Weller who does an awesome job. He's actually an interesting guy who now teaches literature and fine arts at Syracuse University.

But I digress.

This particular episode was, of course, about Russia and covered how the significant buildings in their history where created (that's the basic premise of the show). It was particularly fascinating when they discussed how Peter the Great had the city of St. Petersburg (little bit of an ego there I think) built literally from scratch. The entire city was engineered and constructed from a patch of land that was to all intents and purposes, a swamp.

They also showed how the famous "onion" domed churches in Russia where made and passed along some various tidbits of Russian history. I still find it just amazing that at it's height the Russian empire (actually this was during Soviet times) amounted to one sixth of the entire planet's land mass. And covered 15 different time zones, 15!!! That is just incredible. Even now it's one ninth the earth's land mass and has 11 time zones. It's almost twice the size of the second largest country (Canada). Unbelievable.

Anyway, I'm sure it will be rerun and when it is I'll try to post the date and time well in advance.
posted by Steveg @ 8:24 AM

Random emotions
Wednesday, December 06, 2006
This is just some thoughts I need to get out of my head. Every now and then I get some feelings that I just need to get out and this blog is a great way to do that.

I have no problems with men crying or anything like that, but it's sometimes difficult for me to express somethings and I'm sure that's just because of the cultural traditions that I've been encumbered with.

Anyway, I only had one grandmother living when I was born. My mother's father had died well before my parents were even married. And my dad's mom was...well a bit senile by the time I came along and I only saw her once before she died (which was when I was very young).

During this waiting time I imagine all the cool things we're going to do with Lil' G. Stupid stuff like going to the zoo for the first time, listening to music, reading Shakespeare for the first time, all that stuff. Okay so I'm a bit supercilious.

The other cool thing is that my mother-in-law is a pretty cool lady. So our kid gets this kick-ass grandmother. First, she's intelligent (which is paramount in my book). Second, she loves to have fun.

For her xxxxxxxith birthday we all met in Las Vegas, us and Stef's brother Jon and his significant other. It was awesome. I really love this lady. I don't call her mom (but I wish I did). Anyway, I'm just so happy our child is going to have what I didn't have and that's a grandmother.

I just like to think about all the cool things our Lil' G is going to get to do with "grandma" and that he/she will have a connection that I never really had.

Okay, got that off my chest. Let me grab a tissue and get back to reading about my beloved 49ers. Ciao.
posted by Steveg @ 12:22 PM

What's this Blind Referral thing?
Monday, December 04, 2006
Our friends are currently in Moscow on their first trip (i.e., the referral one) and they're going through just a little bit of a rough time so our thoughts and hopes are with them right now. They had decided to do their referral without any prior knowledge of the child. A process known as a "blind referral".

Referrals of a child can come with a varying degree of information (mostly depending on the region in Russia you are adopting from). For most regions you get a single photograph and a fairly detailed medical history (however, as mentioned it varies tremendously from region to region). Sometimes you get a lot more info, sometimes you get a lot less.

In theory you are not suppose to get any information about the child at all (this is a blind referral). But with telecommunications and the internet this is not as scary as it sounds. You can very easily take snapshots via a digital camera or camcorder and send them via email to an international doctor (aka IA, not ID) and get some very detailed risk assessment back within a few hours.

So doing a blind referral is not really a big deal and can often speed things along in terms of getting a referral. Anyway so that's what our friends are currently doing. However, there are some risks and they are currently going through a little tough time right now, so our thoughts are with them and hopefully (and I'm sure they will) things will work out for them. They specifically didn't want too much information about their situation to be posted right now, so that's why I'm so cryptic. Once they get back I'll give out their blog address and you can read up on what's going on there.
posted by Steveg @ 10:37 AM

About Us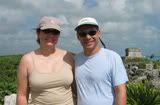 Contributors:
Our Story:
I'm Steve and this is my wife Stefanie. This is our story, mostly seen through my eyes, of the journey to create our family by adopting a child from Russia.
The Great Snowsuit Swap
Donate your old snowsuits or other one time use items to other adoptive parents at: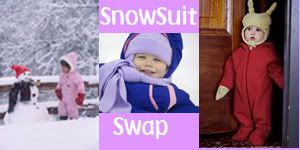 Previous Post
Archives
Powered by


Original template design by Isnaini Dot Com
Thoughts
"The two greatest obstacles to democracy in the United States are, first, the widespread delusion among the poor that we have a democracy, and second, the chronic terror among the rich, lest we get it."

Edward Dowling